Entry level Handheld 3D Scanner
Affordable handheld 3D scanner designed to capture professional quality 3D scans with ease.
Professional, Affordable, Easy-to-Use
Includes powerful 3D scanning software
Calibry 3D scanner produces professional quality 3D scans at an unbelievable price.
This handheld system captures 3 million points fast at up to 30 frames per second. Point the Calibry 3D scanner at the object and move around to scan it into a digital 3D model. The scanning process is simple and efficient.
Flexibility Within Reach
3D scanning is easy with the Calibry handheld 3D scanner. The system captures 3D scans of medium to large objects (human faces, body parts, car engines, as well as large objects including full body scans and entire cars).
Calibry scans objects into digital 3D models from 20 cm to 10 m in length.
Seamless 3D Scanning Experience
The Calibry handheld 3D scanner has an integrated 4 inch touchscreen to simplify navigation. There's no need for an additional computer screen.
Capture and see the data right on the device instantaneously for a great user experience.
Capture Better Scans
Proprietary, patented cameras designed specifically for Calibry handheld 3D scanner capture sharp edges, black, and shiny objects that are often challenging for other 3D scanners.
This makes Calibry faster, more affordable, and better.
3 Capture Modes
Calibry can create scans of a complete digital 3D model through tracking by geometry, texture or markers.
You'll never lose your way.
Powerful 3D Scanning Software
The price of a Calibry handheld 3D scanner comes with unlimited licenses of our simple, yet powerful software.
Easy to Take on Travels
Weighing at just under 1.5 lbs, put the Calibry 3D scanner in your travel bag and you can take it with you anywhere you go.
Works with Markers
Calibry is compatible with the use of markers to ensure you get the best accuracy on large and featureless objects.
Capture 3D Scans for Industry Use
Calibry is an affordable 3D scanner capturing professional grade scan quality results. Its attractive price point and ease-of-use make the handheld 3D scanner suitable for a wide range of applications for engineers, medical professionals, and educators.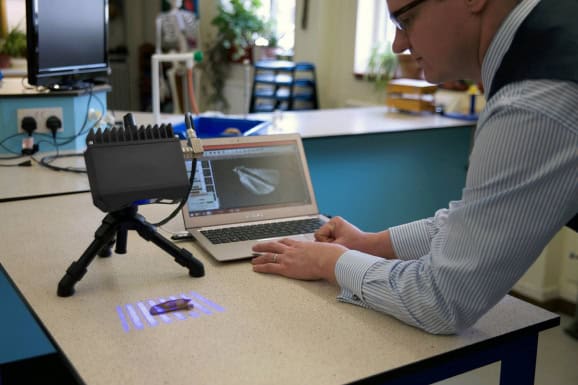 Achieve up to 0.6mm resolution
Built-in texture camera
Collect up to 3 million points per second
Accuracy up to 0.1 mm
Contact Us