Geomagic Freeform
PRECISE. ORGANIC. ENGINEERED.
Introducing The New And Improved Geomagic Freeform Product Line!
What's New
Geomagic Freeform
Create incredible precision sculpted 3D Models
Geomagic Freeform enables you to solve complex design and manufacturing challenges. The industry's most comprehensive organic 3D engineering tools combine touch-based 3D sculpting, surfacing, design intent modeling, 3D scan processing, CAD interoperability and mold making. Get the sensation of clay modeling with the benefits of digital design.
Learn more about Freeform
Design with a different approach
Break through the limitations of traditional CAD design and bring your visions to reality. Geomagic Freeform offers a comprehensive design and sculpting toolset allowing you to sculpt, detail and deform virtual clay models into any form you desire. Geomagic Freeform Plus takes these toolsets into advanced manufacturing design including automatic conversion of digital clay and polygons to NURBS surfaces, mold and die design, shelling, draft analysis, parting line and surface creation tools for complex organic shapes.
Add organic design to traditional CAD
Geomagic Freeform is purpose-built to get your design into production, including its robust interoperability tools to handle import and export of 3D file formats including STL, OBJ, PLY, IGES, STEP and other neutral formats. Freeform Plus supports additional CAD formats. Combine CAD files with sculpted features to create accurate organic solids that are defined by explicit dimensions.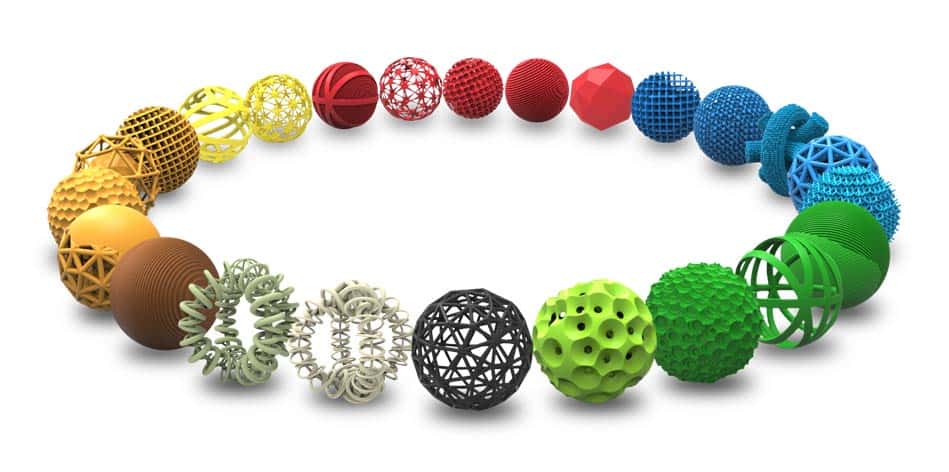 Add structure to your design
Geomagic Freeform's comprehensive StructureFX™ toolset delivers the freedom to select existing patterns or create custom complex, internal and external lattice structures for lightweight and beautiful designs. Advanced tools create functional cages for applications such as custom medical implants. These tools work alongside the advanced 3D print analysis tools for perfect and successful 3D printing of your designs.
Design anything with built-in precision
Geomagic Freeform picks up where traditional CAD software stops. This hybrid modeling system has the flexibility and benefits of many different modeling paradigms incorporating Surfaces, Solids, Mesh, SubD, and Clay. Make smooth surfaces and razor sharp edges with SubD, model precisely defined CAD shapes with NURBS and Solids or deform and emboss shapes with Clay.
Unparalleled creativity
Geomagic Freeform provides all the flexibility a designer could want, especially when designing toys, miniatures and figurines. That's why leading toy companies worldwide rely on Freeform to create award-winning designs in record time. Geomagic Freeform delivers the perfect platform providing flexibility, advanced design tools and a realistic touch-based environment.
Industrial product design
With Geomagic Freeform, ideas can be realized quickly and multiple variations are easily explored. This gives designers the edge over traditional CAD tools by offering the flexibility to organically model shapes, combine 3D data from scans and other sources and make amazing new products in no time at all.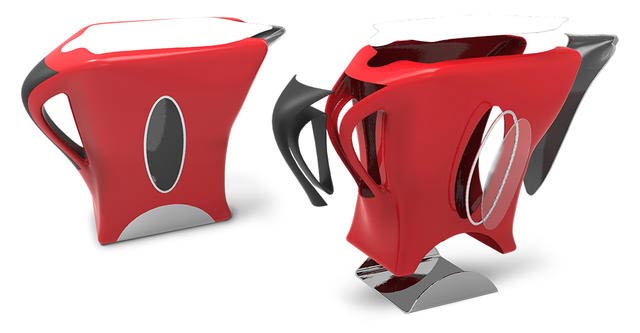 3D Scanning into voxel Modeling of Plastic Bottle
Mold creation Woman's Bra
Perfectly realistic renderings
Amaze and delight your clients or colleagues with high definition KeyShot for 3D Systems for fast and beautiful renderings of your designs. A wide range of preset materials, lights and cameras let you create stunning renderings. For highly customized renderings, KeyShot includes tools to create high-resolution images, custom materials and sophisticated lighting.
Enjoy instant 3d printability
With Freeform's 3D Printability checking tools, you can also catch potential design flaws early on, streamlining your design to production process. You can harness Freeform's patented voxel technology to assure that designs are topologically error free, and cut the need for expensive geometry analysis and repair software.
Touch X
The Touch X haptic device provides precision force feedback and allows you to freely sculpt 3D clay, enhance scientific or medical simulations, increase productivity with interactive training, and easily maneuver mechanical components to produce higher quality designs.
Haptic device brochure
What is a Haptic Device?
Learn how 3D Systems' Haptic Devices can Enhance your Research and Design Workflows
Use 3d tools for 3d tasks
For the ultimate in expressive freedom and faster modeling, Geomagic Freeform products work exclusively with the included 3D Systems Touch haptic devices to deliver freedom of motion and the physical sensation of sculpting in a virtual environment. This more intuitive way of interacting with your 3D design reduces learning curves, speeds design and allows you to deliver top-notch 3D data.
We also offer in-house support and training in Greek or English with this product.