Geomagic Control X
SIMPLY POWERFUL METROLOGY SOFTWARE.
Geomagic Control X is a comprehensive metrology software platform that delivers the industry's most powerful tools within straightforward workflows.
What's New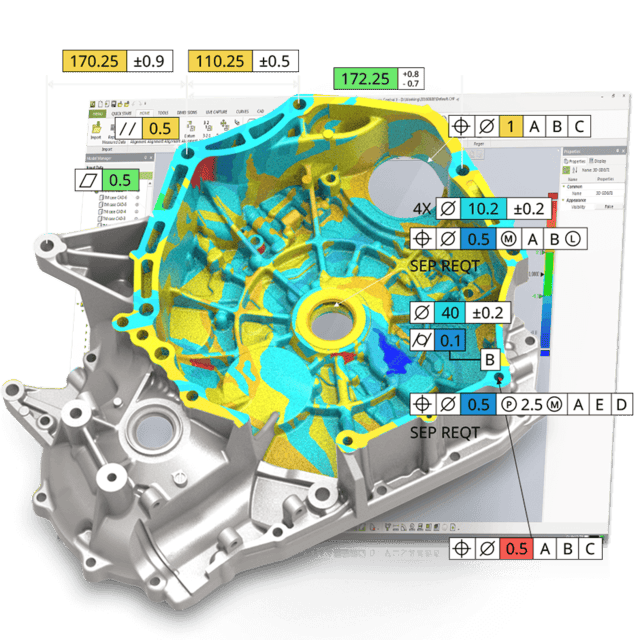 Measure. Understand. Communicate.
Geomagic Control X is a comprehensive metrology software platform that delivers the industry's most powerful tools within straightforward workflows. With Geomagic Control X quality managers are enabled with revolutionary ease-of-use, intuitive, comprehensive controls and traceable, repeatable workflows for the quality measurement process. Its fast, precise, information-rich reporting and analysis enable significant productivity and quality gains in any manufacturing workflow.
REVOLUTIONIZE YOUR INSPECTION ROUTINES
With a new User Interface, innovative new metrology and inspection tools, workflow-driven, preplanned processes and casual walk-up inspection, and more, Geomagic Control X delivers an unparalleled ease-of-use and comprehension for 3D inspection in any manufacturing workflow. Now accurate measurement and fast analysis of manufactured parts and assemblies is on-hand for anyone looking to significantly build quality in manufactured parts and assemblies.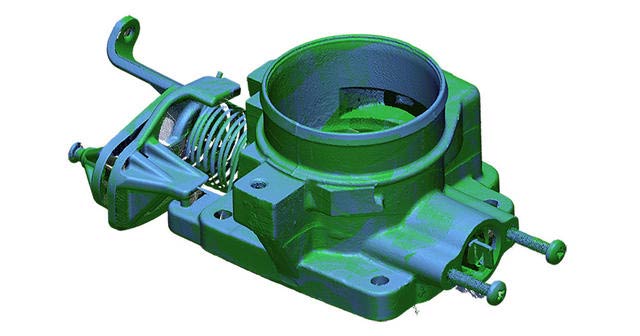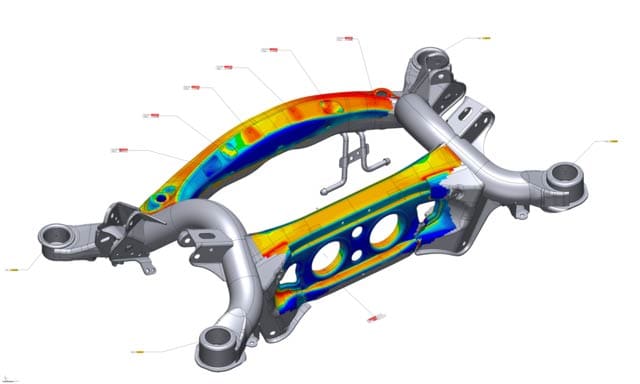 THE POWER TO GET RELIABLE RESULTS. THE SIMPLICITY TO GET THEM QUICKLY
Have the freedom to measure in any order or style you desire, while the powerful Synchronous Inspection system captures the data hierarchy and automation in the background for repeatable and editable processes. Focus on getting the results, not wasting time worrying about how to make the software work for you. Quickly conduct First Article inspections using the CAD-based dimensioning tools and have communication-ready information instantly at your fingertips. Native CAD importers including those which contain model-based GD&T definition are delivered standard at no additional cost.
IMMEDIATELY UNDERSTAND YOUR INSPECTION RESULTS EVERY TIME
Improve your ability to investigate quality issues that may appear across parts or over time through the multiple results system and Result Navigator. Identify the sources of stack-up error in weldments or assemblies by simultaneously working with many results, and derive meaningful, actionable information from the analysis. Understand potential assembled part-related issues, using portable measuring devices, optical scanners and even computed tomography by collecting families of parts or an assembly into one inspection project for easy cross part referencing. Maintain a single project for a single part which contains all measurements over time, and graphically investigate cross supplier issues.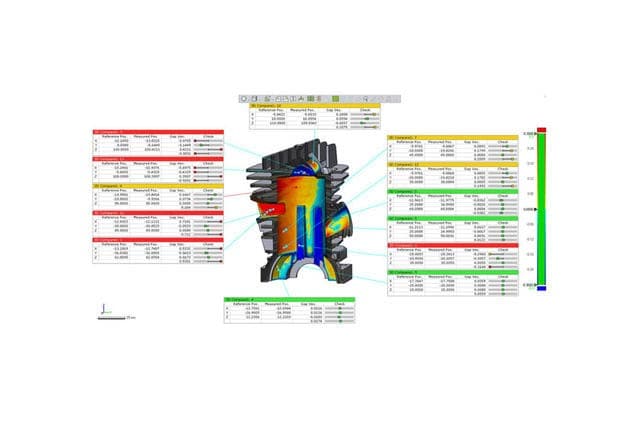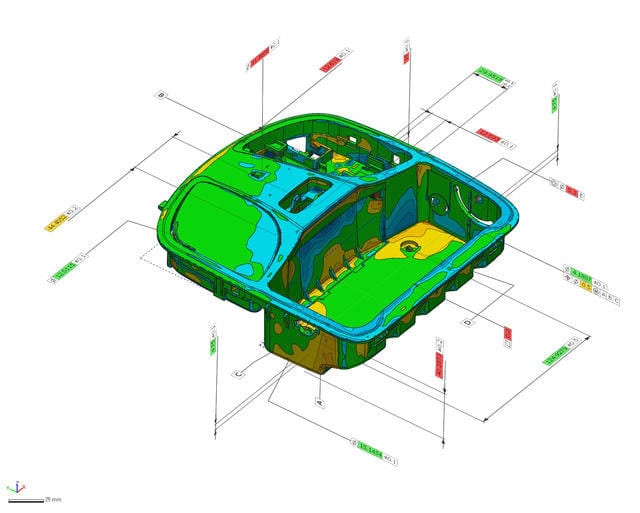 POWERFULLY COMMUNICATE THE RIGHT DATA TO ALL STAKEHOLDERS
New powerful reporting features in Geomagic Control X enable graphically-rich, communicative reports. Custom viewpoint control and view-style reporting empower you to make your report more closely follow a traditional paper or pdf print graphical presentation. Brand new, intelligent 3D dimensioning and annotation management processes enable you to control in fine detail how dimensions will be displayed. You can pick from some popular default representations or create personalized and customized annotation styles to match your company standard. New, advanced report layout tools give you the flexibility to choose how reports will be configured, in the format you prefer.
EXPERIENCE TOTAL ACCOUNTABILITY AND TRACEABILITY THROUGH ALL INSPECTION WORKFLOWS
NIST-PTB certified results give you the confidence to inspect rapidly with accuracy. The new features of Geomagic Control X allow you to build inspections with total accountability and traceability throughout the entire process.
Scan Processing Automation
Scan registration, merging, clean-up, and other pre-inspection processes can now be designed and automated within Geomagic Control X.
• Implement automated processes individually, automatically, and/or in batches
• Create custom scan workflows specific to scanners or routines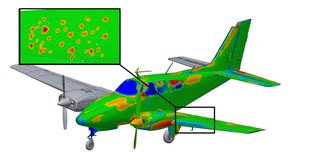 Deviation Location
With Geomagic Control X 2018 you can analyze the size, shape and location of deviation groups. This key inspection capability allows you to:
• Quickly identify and measure surface deviation, including dents, corrosion, and other types of wear
• Automatic measurements allow for quick and turn-key inspection
Airfoil Analysis
Whether you are working on turbines, blisks, blings or blades, Geomagic Control X 2018 provides a fast and intuitive way to gather profile measurements.
• Create profile measurements both automatically, or using custom methods
• Includes Twist Analysis
Enhanced Scanning and Import Capabilities
File import capabilities have been enhanced in Geomagic Control X 2018, providing the latest connectivity to scanning devices and improved CAD importing on even the most challenging reference models.
• New and updated integration with popular metrology devices from Faro, Hexagon, Creaform, Nikon, Solutionix, and more
• Legacy Control Files can now be imported
• Updated CAD import provides more reliable import of CAD files
• ASCII reference Geometry importer enables users to import geometry from simple text-based formats
• Improved architecture that uses up to 37% less memory when handling scan data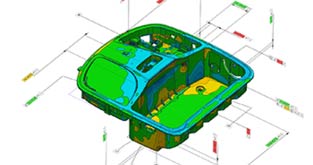 Repeatable Probing Processes with LiveInspect™ for metrology
Geomagic Control X supports a variety of probing workflows using portable CMM devices.
Preplan your Inspection

Create detailed probing processes offline, then connect to your device and press "Play."

Guided or Free Inspection

Measure features in any order you wish or pre-define a measurement order. Both methods provide repeatable processes.

Walk-up Inspection

No plan? No Problem. Walk-up to your device, align and measure with intuitive probing tools, and Geomagic Control X will create the plan for you afterwards.
Custom Reporting Delivers Flexibility in Inspection
Reporting has been enhanced giving users more tools to easily create inspection reports to analyze their results with:
• Data table templates allow for more flexible reporting
• Result Navigator information can be inserted into reports
• Users can now export into a 3D PDF format
• Algorithm improvements that decrease calculation times by ~33%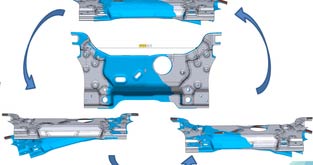 Multi-Alignment Inspection
The new Multi-Alignment Inspection capability allows you to create repeatable inspection routines that require measurement in different alignment environments. This is especially useful when inspecting parts that could have large deformations such as sheet metal, or long-range applications like bowed structures.
• Auto-create geometry and measure between features using different alignment schemes
• Repeatable set up allows for automated inspection of the most deformed parts such as sheet metal or plastic molded components
Enhanced UI/UX
Geomagic Control X sports a fully enhanced user interface enabling even faster workflows and more efficient inspection.
• New Custom Profile feature allows users to create user-specific interfaces and settings increasing usability and simplifying interaction
• Reference Geometry can now be created and paired with contextual shortcuts enhancing no-CAD as well as general workflows
• Users have new control over dimensional annotations such as arrows and center marks
• Dimensional tolerances can be automated based on ISO-compliant parameters