Arm/software compatibility
---
| | Scan | Probe |
| --- | --- | --- |
| Polygonia | | |
| 3D Reshaper | | |
| ArcoCAD | | |
| Axel | | |
| CAPPS | | |
| Geomagic | | |
| Inca3D | | |
| Metrolog XG + X4 | | |
| PointMaster | | |
| Polyworks | | |
| PowerINSPECT | | |
| PowerSHAPE | | |
| ScanTools | | |
| SpatialAnalyser | | |
| TeZetCAD | | |
| Verisurf | | |
| RationalDMIS | | |
Calibration kit
---
We offer our distributors a calibration kit allowing them to provide calibration services for customers' arms.
Calibration kit includes:
a twin pedal
a magnetic support
a calibration bar
an adaptor for Ace and Baces connection
Scanning arm configuration
---
With the help of Renishaw connector, all Kreon scanners can plug easily with our arms. It would never be so fast to switch from a probing arm to a scanning arm and vice versa.
We control the assembly of Kreon products and calibrate them at every stage, to provide the best quality systems, in accordance with
ASMEB89.4.22-2004 standard.
Other accessories
---
We have a range of other accessories which can be delivered with an arm. You can see the recommended examples of tripods, which are helpful for stable measurements:
.
Tripod Lightweight
AluminumTETRALOCK
400S-D (pads)
75-119 cm – 9.6 kg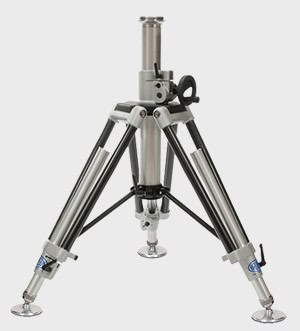 Tripod Lightweight
GraphiteMGS2000SF
(pads and points)
62-97 cm – 13.2 kg
Tripod  Heavy 230F24
61 cm – 97 kg
and 230F 36: 91 cm – 117 kg